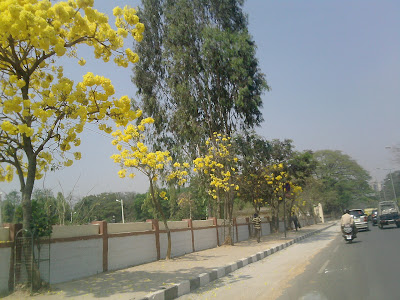 If you are driving on Queens road or down the Windsor manor bridge towards Mekhri circle you cannot miss these sights nowadays. These trees are a riot of bright Yellow flowers that are in full bloom and present an amazing sight in the mornings. I have caught some of these pics from my mobile camera while driving but the actual sights are spectacular. The common name for this is 'Tree of Gold' or in botanical terms '
Tabebuia argentea
', originally from south Americas. These trees are almost denude of any leaves, maybe most of them are lost in winter and are fully covered with these Yellow blossoms that stand out. Their flowering season I am told is short and so one should not miss this spectacular sight. More so for another reason, the indiscriminate tree cutting that is happening in the name of road widening is robbing this city of not only its rich greenery but its crowning jewels.
A RTI filing reply states that for Road widening and Metro Project the BBMP has from 2007 till date cut 2123 trees including the ones which were in danger of falling due to various reasons. But these are only official figures, consider this, S Sivasailam MD of Bangalore Metro Rail Corpn Ltd says that while the elevated section of 32 Kms will fell 2000 trees, the underground alignment of 9 kilometres would have consumed about 1,100 trees .
The sad but moot point in all these is how many of the above flowering plants were lost ?